About Eczema

What Is Eczema?
Eczema is a medical condition in which the areas of skin become inflamed and irritated with blisters that can cause itching and bleeding. Eczema is usually observed in infants and young children, but are now more frequent cases occur in adults as well.

What Causes Eczema?
A diagnosis of eczema is determined when the skin shows signs of sensitivity from damage in the stratum corneum barrier of your skin. When the stratum corneum fails to preserve any moisture in the skin, it becomes dry and irritated along with the other symptoms of eczema.

Although the exact causes of eczema are unknown, there are several factors that are linked to eczema. Genetics can be a factor and eczema may have been inherited along with certain irritants or allergens. Diet is also a factor and certain foods like dairy, eggs, nuts, and wheat can increase the chance of developing symptoms of eczema. Even hot weather and humidity can play a factor in the symptoms of flaring up as well.


What are the Symptoms of Eczema?
The symptoms of eczema vary from person to person. The rash may look different or affect different parts of the body. The size of the rash may also range from mild, moderate, or severe. The universal symptom is usually of dry and sensitive skin, along with intense itching. In many cases, the itching may be so severe that people scratch them until bleeding occurs. This in return, would cause more inflammation and itching and so the endless cycle continues.

A few common signs of eczema is dry and sensitive skin, intense itching, red and inflamed skin, recurring rash, scaly areas, rough and leathery patches, oozing or crusting, areas of swelling, and dark colored patches of skin.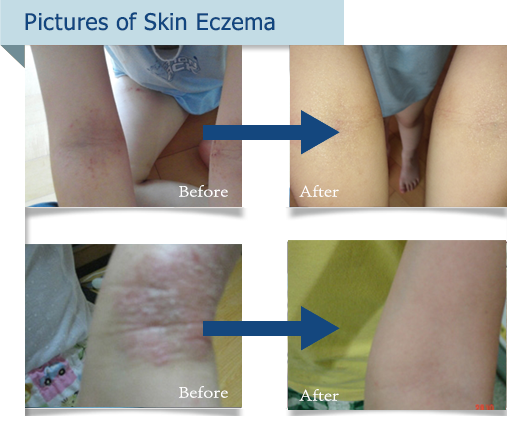 (Disclaimer: The ratings and comments below contain personal opinions regarding one of our Dr.Deep's Skincare products. Each review was written by the person who used the product. Dr,Deep's Skincare products are not marketed or intended to be used for the prevention, treatment or cure of any disease or to affect the structure/function of the face or body. It is expressly agreed that, the following photos and reviews do not guarantee any specific results and results of using the product may vary by person. Dr.Deep is skin care product brand made with natural ionized mineral water & herb which helps improve skin conditions )

Steps and prevent Eczema
A crucial step towards treating eczema is strengthening the skin barrier. This will in return allow skin to strengthen to the point of storing moisture inside. For up to three or four months, constant use of moisturizers consisting of essential minerals like calcium ions, will help improve the skin barrier and help skin to restore back to optimum health. Using natural soap and applying a moisturizer will go a long way in maintaining clean and healthy skin. Another key method in maintaining healthier skin is to wear clothes made of cotton that are rinsed thoroughly as to avoid any remaining laundry detergent that may cause the irritation of the skin.

Dr. Deep's recommendation
Use a moisturizer to improve the skin barrier

Atodeep Soap:Dr. Deep's Atodeep Soap is made of ingredients specifically for eczema. The main focus of Atodeep Soap is used to let the skin retain as much moisture after washing.
Multi Emulsion: Dr. Deep's Multi Emulsion utilizes natural minerals hepls to strengthen the skin barrier. With the balance of naturally-grown herbal ingredients with natural moisturizers, it is the optimum path towards hydrating the skin
Skin Toner: Dr. Deep's Skin Toner utilizes natural minerals, mainly calcium ions (Ca+) which helps aids in rejuvenating the skin barrier.