About Molluscum contagiosum


What is Molluscum contagiosum?
Molluscum contagiosum is caused by a poxvirus and its symptoms may includesmall papule on dermal tissue and itchy sensation.

Healthy skin has its dead skin cell protect the skin like rampartwhile dry skin has its horny layer collapsed, making it vulnerable to infiltration of virus or chemical components, which causes mollus cumcontagiosum or itchy sensation.
Therefore, even molluscum contagiosum requires deep moisture and establishment of solidhorny layer.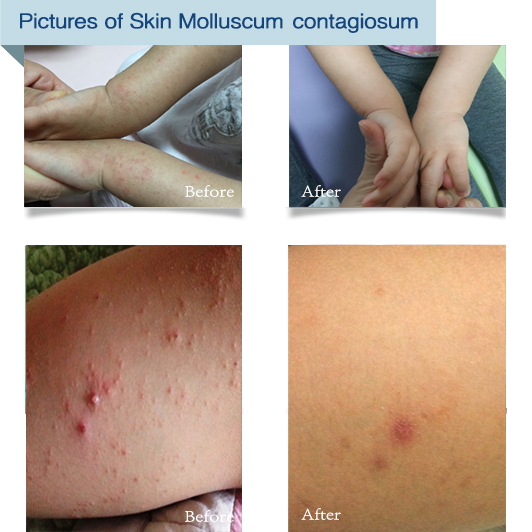 (Disclaimer: The ratings and comments below contain personal opinions regarding one of our Dr.Deep's Skincare products. Each review was written by the person who used the product. Dr,Deep's Skincare products are not marketed or intended to be used for the prevention, treatment or cure of any disease or to affect the structure/function of the face or body. It is expressly agreed that, the following photos and reviews do not guarantee any specific results and results of using the product may vary by person. Dr.Deep is skin care product brand made with natural ionized mineral water & herb which helps improve skin conditions )

What causes molluscum contagiosum ?
Molluscum contagiosum is common among children with skin disorders such as atopic dermatitis.
In addition, it is quite contagious to other children as it is a viral disease.

This explains why it easily spreads among children in a swimming pool, bursary school and kindergarten.


How to prevent Molluscum contagiosum
It is desirable to perform an exercisethat promotes the inherent function of skin itself in a continuous manner as a preventive measure against skin troubles and for improvement on skin conditions.
What matters the most, though, is moisturizing.
Lack of moisture destroys the horny layer that protects children's skin, making it vulnerable to infiltration of poxvirus.

It is particularly contagious among those with dry skin or atopic skin disease.

It often spreads to other parts of the body that used to be free of molluscum contagiosum and to other people as well.
Molluscum contagiosum may spread all over your body and persist for quite a while if you have a weak immune system

Molluscum contagiosum may spread all over your body and persist for quite a while if you have a weak immune system

Boosting your skin's immunity is a fundamental solution to resolving skin troubles and you should help your immunity surmount viral skin infections such as molluscum contagiosum.
It's caused by virus and your immunity should be strengthened to be able to relieve them

Mineral-rich product facilitates moisturizing your skin, provides nutrition, prevents bad active oxygen, and detoxifies your skin, making your skin barrier healthy and strong and removing molluscum contagiosum in a natural manner.


Dr. Deep's recommendation
First of all, we recommend you use skin toner and multi-emulsion which helps relieve skin.
Skin Toner: Dr. Deep's Skin Toner utilizes natural minerals, mainly calcium ions (Ca+) which helps rejuvenate the skin barrier.
Multi Emulsion: Dr. Deep's Multi Emulsion utilizes natural minerals to helps strengthen the skin barrier. With the balance of naturally-grown herbal ingredients with natural moisturizers, it is the optimum path towards hydrating the skin